May 13
2011
It's Friday the 13th. Are you superstitious? I've spent my whole life claiming I'm not, but it's a big fat lie. Superstition doesn't have basis in rational fact, so much like my heroine, I reject it. However, I can't help the creepy crawly feeling in my stomach that screams "BE VERY VERY CAREFUL." I throw the salt, avoid walking under ladders, and feel uneasy if a black cat walks directly in front of me (I like all cats, black and otherwise, so don't think I avoid them!). But I don't know what a person is supposed to do on Friday the 13th to avoid calling bad luck down on herself. I know it's unlucky because it's the day the Templars were massacred, or so I read in a romance novel or two. I haven't bothered to read up on it on wikipedia.
Are you superstitious? Do you do anything different on Friday the 13th?
Today's Four Question Friday is completely unrelated to superstition, except that maybe it's a safe topic. These are also from my marketing department.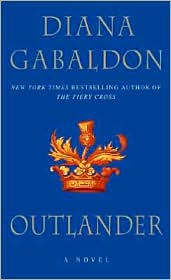 Question 1: If you were stuck on a desert island and could only bring one book, what would it be?
Answer 1: Peter Pan by J. M. Barrie
Question 2: What is the first romance novel you read?
Answer 2: Outlander by Diana Gabaldon
Question 3: What is one book that changed your life?
Answer 3: Outlander by Diana Gabaldon (I'm writing romance for a living now, so I'd say it changed my life!)
Question 4: Who are your five favorite authors?
Answer 4: This is a hard one. I'll have to say, off the top of my head: That Harry Potter lady, Ilona Andrews, Garth Nix, Lisa Kleypas, and Phil Pullman. But it could change if you asked me tomorrow.
EDITED TO ADD: That list is NOT correct. Meljean Brook! Larissa Ione! Marjorie M. Liu! How could I forget? This is why one should blog on a full night's sleep.
How about you? What are your favorite books and authors? What's the first romance novel you read? Did you sneak it from your mother? That's what a lot of authors say in their bios, so I'm just curious.